Rae Sremmurd is an American hip-hop double act made of two rap musicians namely: Slim Jxmmi and Swae Lee who both hails from Tupelo, Mississippi. Both are best known for their mixtape, 'Stremmlife' which was released in 2015 and was certified platinum by the RIAA.
What truly propelled the two into the public eye was their 2014 singles "No Type", "This Could Be Us", and "Come Get Us". I guess now you're familiar with the hip-hop group, let's go ahead and find out Rae Sremmurd net worth as of December 2019 and a few things you might not have known about them in form of a biography.
RAE SREMMURD BIOGRAPHY

Slim Jxmmi Born 'Aaquil Iben Shamon Brown' in 1993, is popularly known by his stage name, is the older brother to Swae Lee born 'Khalif Malik Iben Shaman Brown' in 1995 and they were both raised up in Inglewood, California. While they were both still schooling, their family relocated to Tupelo, Mississippi which was at that time, an area with a bad reputation. They lived with their step-dad who used to sell drugs in order to educate them. After their high school, the two didn't attend any college but followed their passion for music.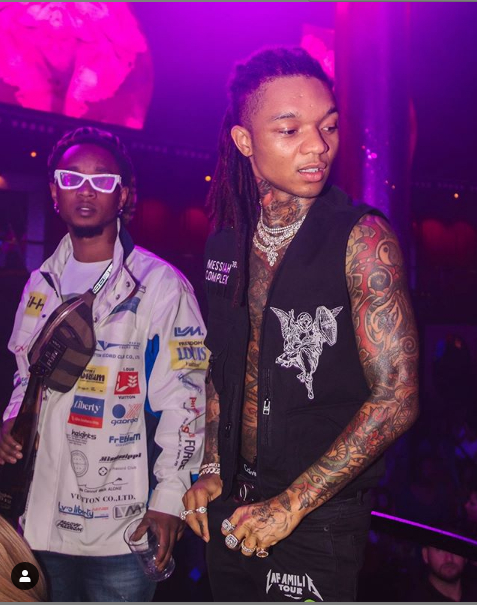 Before starting Rae Sremmurd, the two were in a different group with 'Jemiah Middlebrooks' who was their high school friend, and it also included a DJ who played for the group in different shows. The set was then called 'Dem Outta St8 Boyz' and they all had different stage names where Swae was' Kid Krunk' Slim was 'Caliboy' and Jemiah chose 'Lil Pantz'. Their leap forward in music was with the release of 'Party Animal' in 2010 which gave them an opportunity to perform in various events including one of the BET shows '106 & Park'.
After Lil Pantz left the group, another rapper called André took his place and this time, both slim and Swae changed their stage names again to 'Weirdo' and 'Kid The Great' respectively. Their hard work was valued by the producer 'P-Nazty' who signed them in his studio 'Eardrummers', where they dropped the debut single 'I Dip' and released the 'Three Stooges Mixtape' in 2010. After struggling with financial problems and their André leaving the group, the two brothers then decided to change the group's name to 'Rae Sremmurd', which they're still using to date. 
The name came from their studio name 'Eardrummers' by spelling each word in backward, I bet you just found out. What trailed in between 2013-2015 was dropping 'Mikewillbeentrill', 'Throw Sum Mo' and 'No Flex Zone'. Their triumph came in 2015 after releasing their mixtape, 'Stremmlife' which sold featured in many US records and also after working together with Nicki Minaj in their remix of 'Throw Sum Mo'.
Their recent project was in 2016 when they dropped the sequel album 'Stremmlife 2'. They also started their own label, 'Streamlife Crew Records' which to date produces hip-hop and trap music. Though the two have worked on individual singles, their most recent song together was, 'Perplexing Pegasus' which debuted mid-2019.
Rae Sremmurd have been nominated in seven BET awards and won in one category, the were also nominated in three Billboard music awards and also won in one category, and the list of their nominations is endless.
NETWORTH

Rae Sremmurd's net worth is estimated to be $6.5 million as of December 2019. Rae Sremmurd's networth figures were greatly contributed by their music career earnings and concert tours money. Some of their songs have been certified platinum and was testified that on an annual basis, the duo earnings are around $350,000. Another factor boosting Rae Sremmurd's networth, is their YouTube channel, where it was found that they make around $10,000 per video.
Having been brought up together and raised together professionally, the duo has proven to be one of the best in the industry lately, and in 2019 we should expect more from them, in addition, an upsurge to Rae Sremmurd's net worth in 2019.