The Canadian superstar 'Celine Dion' who is undoubtedly one of the greatest singers of all time and as well businesswoman and also regarded as one of the pop genre most influential artist who in addition is said to have been a significant influence on artists such as Britney Spears, Christina Aguilera, Jordin Sparks, Jessi J, Taylor Swift amongst many others is a well-known legend in the music industry. Celine also holds the second position as the best-selling female artist of Nielsen Sound Scan era and also the best-selling artist in Canada of all time having made a total sale of above 200 million copies. It's time to gets to it and discover how Celine Dion amassed this massive net worth fortune and also a few things I bet you don't know about her.

CELINE DION BIOGRAPHY 

Celine Dion born 'Céline Marie Claudette Dion' on 30th of march 1968(currently 50 years old) in Charlemagne Quebec to 'Theresa' and 'Adhemar Dion'. She is the youngest among other her 13 siblings. Celine Dion's family were profoundly involved in music, and since her parents used to have a Piano bar, she and her other siblings usually perform there.
Celine's mother and her brothers were songwriters, and they composed the song "Ce n'était qu'un rêve" which translated to "Nothing but A Dream", after 'Rene Angelil' listened to the song after hearing Celine Dion's voice, he was stirred by her voice and swore to make her a star.
That same 'Rene Angelil' later became her husband even though at the time they met Celine was just 12 while he was 38. In 1987 they began a relationship and became engaged in 1991 before they got married in 1994. The couple had three children sadly, Angelil passed away in 2016 after fighting cancer for a while.
When Celine Dion met music manager Rene Angelil in 1981 her life improved as he funded her first record La voix du Bon Dieu, which later became a No 1 hit in Canada. Upon her conclusion of Yamaha World Popular Song Festival in Japan in 1982, she was conferred the Top performer and won a gold medal intensifying her fame to the outside world. The following year Celine had a gold record in France, several Felix awards and winning the 1988 Eurovision song contest.
Till date, Celine has released 26 Studio albums, seven live albums, 21 box sets and 17 joint albums. She released her first English language studio album 'Unison' in 1990 and ever shine has sold over 3 million copies globally. What followed after was Celine's 'Chante Plamondon' and her self-titled album 'Celine Dion' in 1992 which was buttressed by the song "Beauty and the Beast". The album to date has sold more than 5 million copies and has been certified 2x Platinum.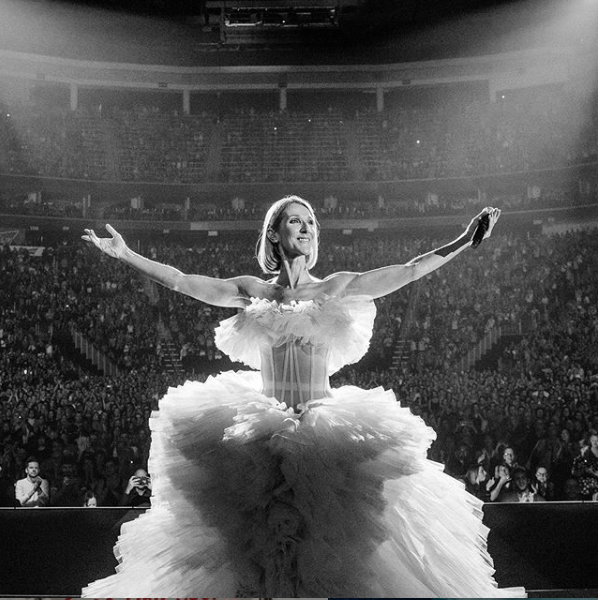 Her other English studio albums which she released from 1993 till 2007 are 'The Colour of My Love' (1993), 'Falling into You' (1996), 'Let's Talk About Love' (1997), 'These Are Special Times' (1998), 'A New Day Has Come' (2002), 'One Heart' (2003), 'Miracle' (2004), 'Taking Chances' (2007), and 'Loved Me Back to Life' (2013). Her French-language studio albums released from 1993 to 2016 are
D'eux in 1995, S'il suffisait d'aimer in 1998, 1 fille & 4 types in 2003, D'elles in 2007, Sans attendre in 2012 and Encore un soir in 2016.
Asides music, she is also a very successful businesswoman. She has an artiste management company named Feeling Inc., she also owns Nickels Restaurant food chain, Le Mirage Golf Club, Schwartz's Restaurant, and she released 'Celine Dion Parfums' which to date has grossed over $850 million in sales.
In full, Celine has won 252 awards out of 508 nominations received for her music and achievements. Some of the awards she received are 12 World Music Awards, 5 Grammy Awards, Legion of Honour from France, 7 Billboard Music Awards, a star on Canada's Walk of Fame and Hollywood's Walk of Fame, 7 American Music Awards, 20 Juno Awards, 43 Félix and many others. Celine was inducted into the Canadian Broadcast Hall of Fame and into Kraków's Walk of Fame as well as the Gaming Hall of Fame.


CELINE DION NETWORTH
As of December 2019, Celine Dion's networth stands at $850 million. Celine was on the list of best-selling music artists of all time for selling over 200 million copies worldwide and being named the best-selling music artist of Nielsen SoundScan era, a vast portion of her networth fortune is as a result of her music sales. Celine Dion's networth has also been contributed to by her tours as she was listed at number 18 in the list of top 20 grossing tours of all time where she made approximately 279 million with her 'Taking Chances World Tour' in 2008. She also made some cash by featuring on movies such as Sur la piste du Marsupilami, Hell's Kitchen, Muppets Most Wanted amongst others.
Without a doubt, Celine is a legend, and tagging along with her commercial success, it's no doubt that she has a net worth of $850 million. Her story can simply be told as that of a successful woman who made her riches out of her passion for what she knows best.
Celine Dion Instagram handle