The police have instituted a criminal case against the Kogi State Commissioner for Water Resources, Abdulmumuni Danga, after he allegedly assaulted a beauty queen named Elizabeth Oyeniyi earlier this year.
Danga is to appear before the Federal High Court in Abuja on a seven-count charge, including rape, brutality, coercion and torture.
Elizabeth Oyeniyi accused Mr Danga of brutalizing her and raping her multiple times on March 29 because of a Facebook post she made. In the Facebook post that resulted in the alleged assault, Elizabeth urged the commissioner on Facebook to assist his sister – who is her longtime friend – and his family financially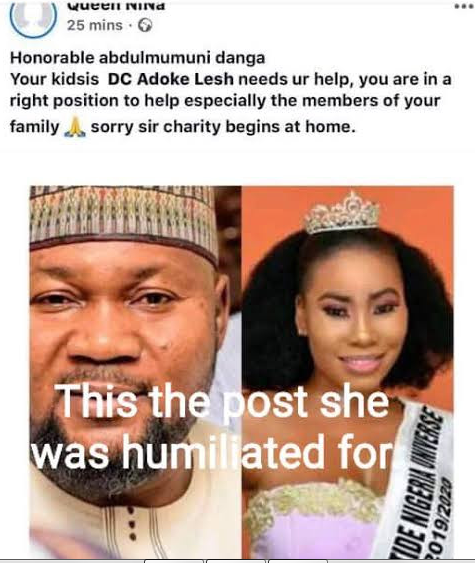 Elizabeth said the post angered Danga and he allegedly hired thugs to kidnap her from her home with her three-year-old son. He then beat her up and raped her.
Showing the marks allegedly inflicted on her by the commissioner, Elizabeth said at the time: "After making the post, they started attacking me on social media and he sent some guys to come and get me.
"On getting to me, they flogged me. He flogged me himself, stripped me naked and made a video of me threatening to post it when next I make any public comment about it.
"They also made me apologize that what I said about him was not true under duress. I had to do so because they were all over me.
"The commissioner also smashed my phone and destroyed it totally, saying that maybe I might have been recording what was happening or I have been recording before getting there."
Elizabeth said Danga could have killed her but for her son who was with her.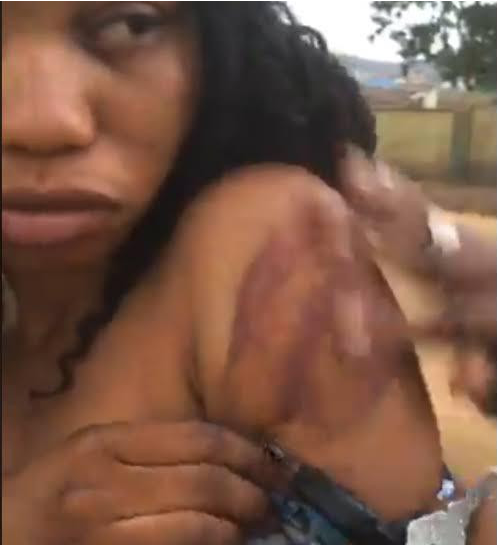 She said the commissioner stripped her while at least 15 men, who worked for him, watched and filmed her humiliation.
After the attack, Mr Danga allegedly drove her to a hotel close to the Kogi State House in Lokoja, the state capital, where he allegedly forcefully raped her three times overnight, the victim claimed after her release.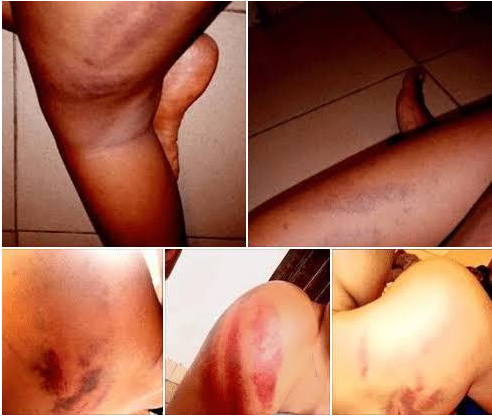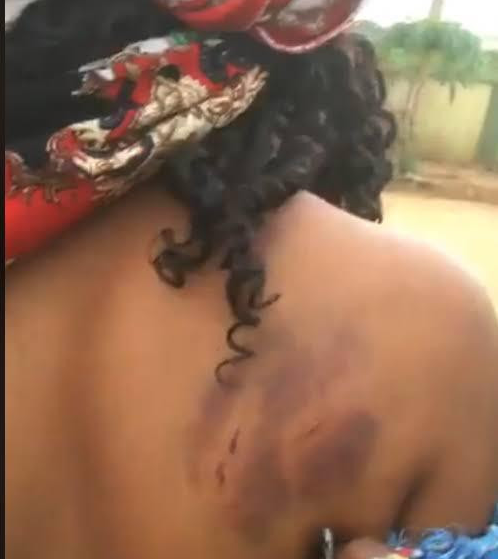 Mr Danga denied the allegations but civil rights groups, led by Dorothy Njemanze, mounted pressure on the police for an investigation. Activists also called on the Kogi State government to sanction Mr Danga.
The state promised to launch an investigation into the matter.
During the investigation, activist Segun "Segalink" Awosanya claimed there has been pressure from the state governor and others in the political class to pervert justice (read here).
Five months after investigation began, the police have instituted a criminal case against the commissioner after questioning all parties involved.
Abdulmumuni Danga appeared in the police headquarters in Abuja on June 2 and July 5 for interrogation.
Danga is to be arraigned alongside one Success Omadivi, 35, who was also indicted in the course of the investigation.
According to court documents, the case filed on September 4 will be prosecuted by the police on behalf of the Federal Government of Nigeria.

 
The offenses leveled against Mr Danga include falsification of documents and threatening medical officers to forge test result, having carnal knowledge of Ms Onyeniyi without her consent, inflicting physical injury and torture by flogging.