President Buhari has once again displayed his comic side to Nigerians as he was captured on video checking who his wife Aisha voted for.
The President was reported to have cast his vote as early as 08:15hrs, moments after the arrival of the INEC agents at his polling unit in Daura, Katsina State.
But immediately after casting his vote, as he made way from the polling unit, the President made a brief stop beside his wife to peep on if she had voted for him or for another of his opponents.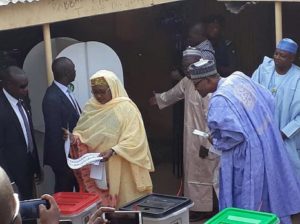 Aisha Buhari, who was caught unawares smiled as she caught her husband peeping through her shoulder. The President also smiled about the situation and moved away from the point.
The hilarious moment was captured on video and the video has since gone viral.
Watch Video: