When thinking of buying a tv, I think you should consider the Hisense 50 inch smart tv which is one of the best UHD 4k A6 series tv you can find in the market now. Hisense 50 inch smart tv was launched in 2019 and has been trending amongst tv lovers.
You might want to know why the Hisense 50 inch smart tv is the best for you.
Hisense smart tv is a good brand and its produced by the Hisense group which has been in tv production for over 40 years.
The company Hisense visual technology co. ltd was the brain behind television sets like Sharp and Toshiba which were one of the most sorted after tv in the 80s and 90s.
Hisense 50 inch smart tv description
Hisense smart TV comes with a 50 inch tv screen and LED technology. It has an Ultra HD (4K). High Dynamic Range that brings out colours in their purest form.
The Hisense smart TV comes with a 50 Size screen with LED display Technology. It has amazing Internet Connectivity which is a special feature of the smart tv.
It has a Refresh Rate of 50 HZ  and a display resolution is Ultra HD (4K). It has a high dynamic range you will love the colours as whites look brighter, blacks look darker and colours look more vibrant.
The Smooth Motion Rate is 100Hz Smooth Motion and adopts MEMC technology to enhance clarity in fast-moving images.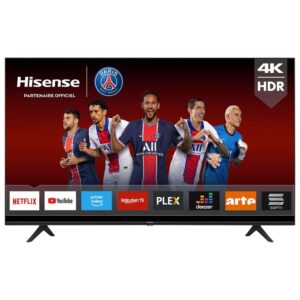 Whatever you're watching, you'll enjoy a fluent, smooth and clear picture on the screen.Vidaa U operating system that displays all the apps and features on the home screen of the smart tv
A simplified and 100% customizable interface, The proprietary interface Hisense offers a complete experience: with Vidaa U, each action is extremely simple. Adding an application, source or TV channel to its home screen becomes child's play.
Smart TVConnected, you will be able to enjoy applications on your TV, directly accessible from your remote control. Also, broadcast multimedia content from your phone or computer to your screen.USB: Multimedia Player Broadcast your photos, music and videos on your TV via USB.HDMI Whether for your game consoles, internet box, Blu-ray player or DVD, you will not miss any more to view your favourite content.
Features of the Hisense 50 inch smart tv
A smart tv is a kind of tv that works just  like a smartphone, it can easily be connected to the internet and comes with apps and softwares that can be sent and accepted by any smartphone.
The Hisense 50 inch tv comes with amazing features that will give you a lifelong tv experience.
Key Features
NEW MODEL 2020
bluetooth
Netflix
Youtube
Prime Video
DTS Studio Sound
Icflix
Game Center
4K UHD TV
3 HDMI
2 USB
AV
Smart WiFi
Free Wall Bracket
If you want to buy the Hisense 50 inch smart tv in Benin at an affordable price then call or WhatsApp 08134061363