After all the confrontation that the former US president had during the US election, where his tweets were deleted on different occasions, Trump has launched his own social media platform called Truth  Social.
Trump's media company, Trump Media and Technology Group (TMTG) merged with Digital World Acquisition Corp. to become a publicly listed company with a potential valuation of up to $1.7 billion.
According to Trump, Truth Social will be launched in early 2022 and will compete with major social media platforms like Twitter and Facebook.
Former president trump also went further to say that "he will also launch a subscription video website to compete with Google's YouTube.
According to Trump, the move is a fulfilment of a promise to create a conservative media competitor to combat the liberal activism against his administration and in the 2020 presidential campaign.
Trump explained on Wednesday night, October 20 that he created TRUTH Social and TMTG to fight against the tyranny of big Tech companies.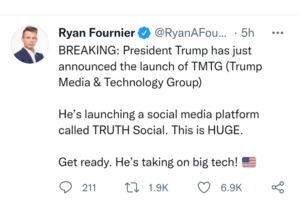 We are in a world where the Taliban has a great presence on Twitter, yet your favourite American president has been silenced "this is unacceptable"