The protesting group who presented a communique signed by Leaders of various Organisations to the Speaker of Edo State House of Assembly Hon. Marcus Onobun stated that the proposed ceding of Edo communal lands to the monstrous cum vamparous killer herdsmen in Edo State is totally not acceptable
In response to the group, the Speaker of the Edo State House of Assembly Hon. Marcus Onobun debunked the news as fake news that the Government has no plan of such.
The Communique reads in full:
We are dismayed by the attempt by Edo State Government through the House of Assembly to mortgage, grab or cede Edo communal lands for cattle colony considering the persistent criminal activities of herdsmen and their havoc in Edo State and Nigeria at large which have caused serious security challenges leading to wanton destruction of lives and properties.
As we speak several communities in Edo State have been ransacked, several scores killed, farms destroyed by these criminal elements under the guise of cattle rearing.
We perceive conspiracy between the Federal Government and Edo State Government to implement President Muhammadu Buhari led Federal Government RUGA (Rural Grazing Area) agenda in Edo State. On the 11th day of October 2021, Edo State Government organised Town Hall meeting on how to go about Anti Open Grazing Bill, and was presided over by his Excellency Governor Godwin Obaseki, during the meeting, Governor Obaseki categorically and specifically announced that Edo State does not have lands, therefore Edo State Government can not give land to cattle rearers who are private businessmen, he went further to say that whoever want to establish livestock business should acquire their personal land for their private business. His position was in consonant with aspirations of stockholders including Traditional Rulers, Community Leaders, Religious Groups, Organised Labour,  Civil Society Groups, Farmers and other Stakeholders present at that meeting and it was agreed that *Cattle rearers should adopt ranching.*
Shortly after the town hall meeting, Mr. Governor his Excellency Governor Godwin Obaseki visited President Muhammadu Buhari in Aso villa, we heard in the news that the Governor went to solicit for funds from Federal Government to build and establish cattle colonies in line with the President Buhari's proposed RUGA in Edo State, against the will of Edo people and against the agreement reached in the town hall meeting.
We feel betrayed by Edo State Government for tending to conspire with President Muhammadu Buhari led Federal Government to implement and establish cattle colonies all over Edo State as against the wish and aspirations of Edo people.
Binis are loving and caring people, we are not against any one doing his or her legitimate business(es) in our State, but again we remember vividly what led to the Usman dan Fodio's Jihad and the aftermath of the war. We are seriously concerned about the safety of our land, our people and our generations unborn. We will not allow persons or group of persons to come into our Communities, our kingdom, our heritage, create another Community or a settlement inside our Communities, which may later become a problem against our Kingdom. Against this backdrop we hereby demand and recommend the following;
Our Demands
1. Immediately expunge clause 5(7) of the anti open grazing bill which provides or suggest ceding parts or section of Edo Lands to Cattle rearers for Cattle colony/RUGA and other clauses that tend to legalise the activities  of  these monstrous herdsmen.
2. To immidiately call for a public hearing on the anti open grazing bill before further readings
3. Edo State Government should jettison implementation of Federal Government RUGA/Cattle colony agenda in Edo State, as it is alien and tantamount to sitting on a keg of gunpowder.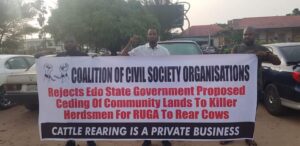 Our Recommendations
1. Cattle rearing is a private business therefore investors should acquire their lands for ranching from individual land owners or Communities just like every other Farmers and Businessmen.
2. There should not be permanent acquisition of any land(s) for ranching rather Lands should be leased to investors in period not exceeding thirty years which shall be subject to renewal on expiration to avoid building a permanent base and creating a Community inside our Communities.
3. There should be stringent conditions and processes for issuing approval for ranching in terms of land location, dimension, process of land acquisition, et cetera.
4. A Committee comprising Government officials, representatives of Traditional rulers, Civil Society Organisations, Community Leaders, Religious Leaders, Farmers, Organised Labour, Traders Union, Manufacturers Association of Nigeria, Veterinary Doctors, Health Inspectors, none Youth Leader and representative of Security agencies, should be set up by the State Government to access, scrutinise, monitor and regulate ranching and general activities of Cattle rearers in the State
5. Security task force comprising local vigilantees should be created both at the State and Local Government to work with the Committee and other Security agencies to enforce and ensure compliance with the rules of engagement.
Conclusion
Section 14 subsection 2 article(a) of the 1999 Constitution of the Federal Republic of Nigeria states that sovereignty belongs to the people of Nigeria from whom Government through this Constitution derives all its powers and authority. In democracy the people determine what they want and how they are governed and as the mouthpiece of the people, we own it a duty  to protect the interest of our people, we will advocate and support Government policies that tend to embody the interests of the people and in same vain reject every anti people's policies.
Edo people encourages modern ranching which is obtainable everywhere in the world but should remain and operate like every other private business but to be closely monitored by the Government.
Long live Federal Republic of Nigeria.
Long live Edo State
Signed;
Comrade Ambassador Curtis Ogbebor
Interim Coordinator General Edo Civil Society organisations EDOCSO
Maxist Cola Edokpayi
Comrade Idiogbe Solomon
Comrade Kelly Omokaro
Comrade Charles Idehen
Comrade Nosakhare Evbuomwan
Comrade Jonah Ehiosun
Saint Michael Equagie Esq.